CONDAT-2023 TAIWAN COLD HEADING DISTRIBUTOR
2023-05-16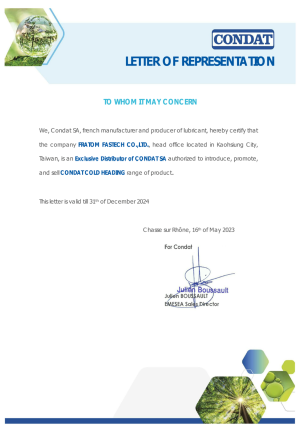 The CONDAT Group founded in 1854.
Thanks to its chemical know-how, as a specialist in formulation of oils, greases and surfactants,
CONDAT group has positioned itself as world leader in numerous application fields.
To ensures its international presence through a network of agents and distributors, industrial or commercial subsidiaries.
Good News! Now you can buy the CONDAT Lubricants in TAIWAN by FRATOM !
If you are interested in it, you can check the Lubricants in product introduction and please feel free to contact us.